The dreams of a dashing life partner and the perfect soul mate begins for a girl when she barely comprehends full sentences.
Knight in shining armor sweeping them off their feet and getting married in the most beautiful wedding are part of many a girl's growing up fantasy.
When I heard the news of a fellow blogger entering in to wedded bliss in November, there were many nostalgic moments of my dreams and the eventual marriage to my soul-mate !
It's celebration time in blogger world- one of our fellow pal Nithya who pours her heart out @

4th Sense Cooking

is getting married. A
very talented blogger and a great photographer, Nithya is known for her clicks that is sheer poetry !
I once read that Sexiness wears thin after a while and beauty fades but to be married to a man who makes you laugh every day , ah - now that's a real treat - Nithya here's wishing
you & the man of your dreams all love, happiness & success !
While it is impossible for everyone to be actually present for the wedding, we a group of 12 bloggers headed by Anamika are joining in for virtual celebrations & to raise a toast to the sassy bride !
A virtual bridal shower for Nithya by recreating dishes from her blog is our small way of expressing joy & wishes - Hope you like it Nithya !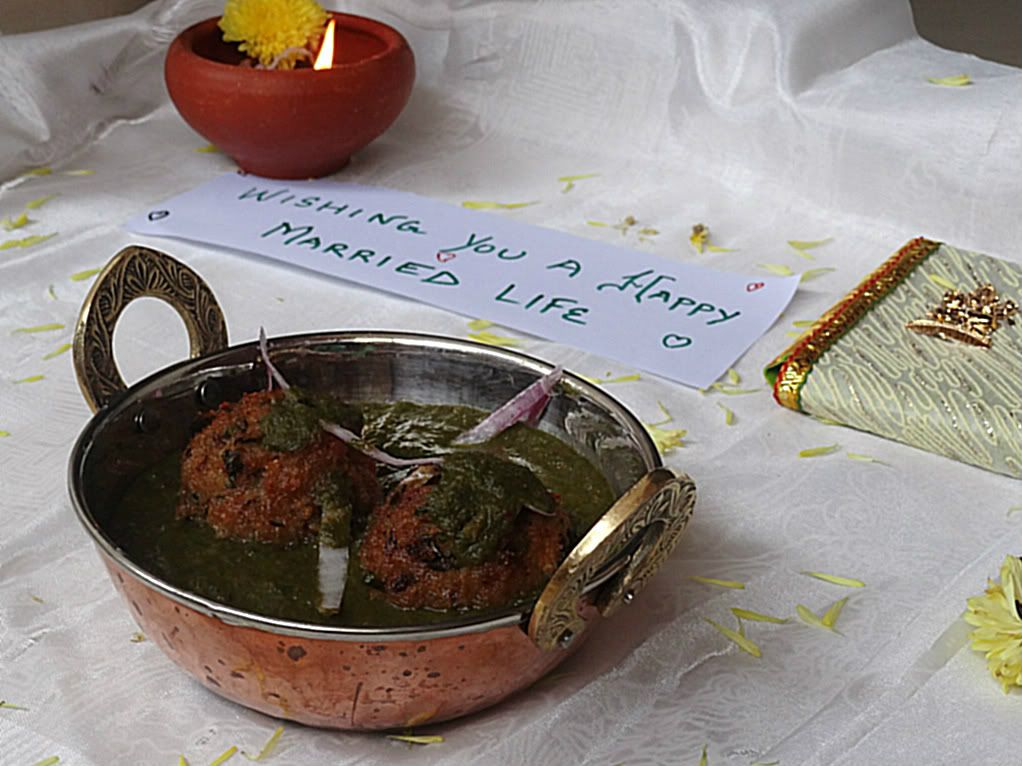 I decided to make

Palak Kofta Curry

from her space for the occassion. A few alterations to the recipe dictated by our taste buds was done.The dish signified hearty & exotic and it tasted YUM
Ingredients :
For Kofta :-
Spinach (palak) - a small bunch - finely chopped

Potatoes - 2 - big - boiled & mashed

Bread slices - 3

Onion - 1

Green chillies - 2

Garam masala powder - 1/2 tsp

Mango powder - a pinch

Coriander leaves(Finely chopped) - 2 tblsp

Salt - for taste

Oil - for deep frying
For Gravy :-
Spinach - 1 big bunch

Whole Spices - cinnamon,Mace,Cardamom- little of each

Milk - 1/2 cup

Onions - 2 - chopped roughly & ground to a fine paste along with whole spices

Ginger & Garlic Paste - 1/2 tsp of each

Chilly powder - for taste

Turmeric powder - a pinch

Dry mango powder(aamchur) - 1/2 tsp

Garam masala powder - 1 tbsp

Salt - to taste

Butter - 2 tsp
Method
Wash the green well and finely chop them.Pressure cook the potatoes, peel and mash them well.Chop the onion, chillies and coriander finely.
Dip the bread in water, squeeze and mix it along with mashed potatoes, chopped spinach,onions,chillies, coriander leaves, garam masala, mango powder and salt. Mix them well and pinch out a lemon sized quantity and roll it into a fine ball. Repeat the same for the rest of the mix.Deep fry the balls in hot oil. Keep the flame low and fry for few mins till they turn into golden brown color.
Place them on kitchen tissues to remove excess oil.
For the gravy,

Wash the greens well. Put them in a pan with little water and let it cook/boil for a few minutes till they all wilt. Now drop them in to a bowl of cold water immediately.This not only stops further cooking but also helps maintain the color of the greens. Take it off flame and allow it to cool.

Grind the greens into a smooth paste.





Heat butter in a pan and fry onion-spices mix till the onions turn golden brown. Add ginger-garlic paste to it and let the mix sizzle for a while.Now add the salt, chilly powder, mango powder, garam masala and turmeric powder to it. Let the contents boil for a while.Add the ground spinach and the milk slowly, stirring it continuously. Now let it simmer till it becomes thick and creamy.

Add the above done koftas just before serving the curry.

Yummy and healthy spinach kofta curry is ready to eat.

Serve hot with chapathi, roti or ghee rice - Enjoy
The recipe is also featured in Honest Cooking
Also head over to other bloggers hosting this virtual feast & celebrations
Vardhini -

Zesty Palette
Enjoy !
It's off to Nancy's YBR-October