Deepavali is just around the corner and the
festival of lights promises to be a joyous celebration. A bunch of sweet treats have already started pouring in and my weighing scale has started protesting & groaning about the excess calories sneaking in ! The feasting does not end there; my in-laws are visiting us this weekend and the next fortnight is packed with lavish lunches at home as well as binging out in my favourite restaurants - so the scales have to wait till I give them some happy results and that ain't happening till the first week of November.
Radhika's

Wednesday Blog Hop # 7

is here and I am paired with Sangee whose culinary trails are etched in

Typical Indian Kitchen

- a versatile blog with a lot of lovely recipes. After shortlisting 3 recipes, I finally zoomed on making paniyarams which my hearth is seeing for the first time. Mistake not- we have eaten a lot of them from our favourite eat-shops, but the stuffed paniyarams from sangee's page was just beckoning me to try it out.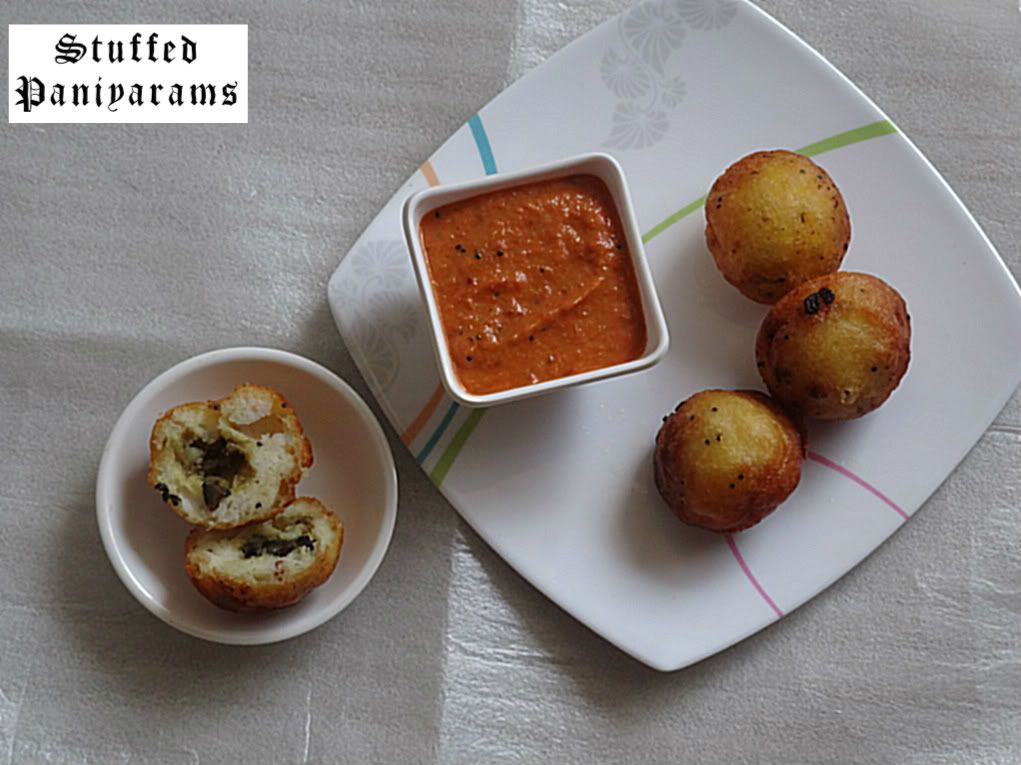 A popular chettinad cuisine (south Indian Dish), paniyarams are made from a fermented batter of rice & lentils (Urad dal). They can be made either sweet or savoury; the batter is poured in to a pit (குழி) of the special mold and then cooked .
Use பணியாரம் சட்டி/Paniyaram Mold for it or the
Ebleskiver works just fine for these savoury/sweet snacks- go ahead and enjoy the piping hot treats for a morning breakfast or relish it with your cuppa in the evenings or for those monsoon cravings
Ingredients
For the Batter :-
Parboiled Rice - 4 cups
Urad Dal - 1 cup
Fenugreek Seeds - 1 tbsp
For Paniyaram Batter (Tempering of the ground batter) :-
Ground Batter - 1 cup

Coriander leaves - a few sprigs(finely chopped)

Oil - 1 tsp

Mustard seeds & Urad Dal - 1/2 tsp each

Ginger - a small piece - grated

Asafoetida - a pinch
For stuffing :- (let your taste palate work for the ingredients)
Mushroom - 1 cup (washed thoroughly & chopped)

Onion - 1 medium (finely chopped)

Potato - 1 large (boiled & mashed)

Green bell Pepper - 1 small (finely chopped)

Curry Leaves - a few- finely chopped

Turmeric powder a pinch

Chilli powder - 1/2 tsp

Garam masala - 1/2 tsp

Salt to taste

Green Chillis - 1 to 2 - finely chopped - to taste

Oil - 1 tsp
For shallow frying:-
Ghee/Clarified Butter or Oil - as required for each pit/groove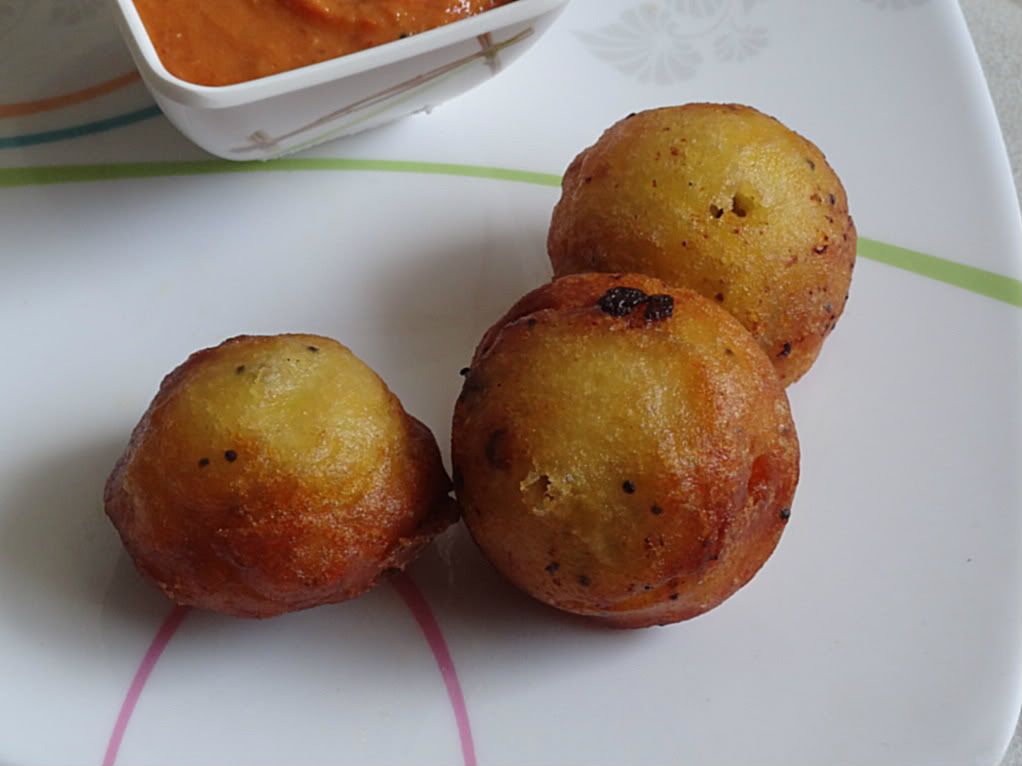 Here's How :-
Soak overnight parboiled rice (pulzungal arisi/idli rice) and urad dal along with fenugreek seeds separtely.
After soaking them overnight ground the trio to a fine smooth batter in mixer/Grinder.
Leave the batter for fermentation for a few hours. The batter is ready to be used for a variety of dishes- Idli/Dosa/Uttappam/Paniyaram etc
For the stuffing,heat oil in a pan,add mustard seeds and allow it to splutter. Add chopped onions and saute it for a minutes and then add green chillis,curry leaves and green bell pepper; let it sizzle for a few minutes.
Then add
turmeric powder and the chopped mushrooms and saute lightly for a minute or two.
Tip in the spices like
chilli and garam masala powder, cook it till the raw smell of the spices evaporate. Finally
add mashed potato and enough salt and mix everything well and cook for a minute. Take off flame and set aside.
For the paniyaram batter -heat oil in a pan,and then add all the ingredients for the tempering and let them sizzle. Add this to the Idli/dosa batter and mix well.
Now heat these paniyaram mold/ebleskiver, add few drops of oil/ghee in each pit/groove. When it gets hot, pour little batter 1/2 level to the groove, now place a heaped spoon of filling and pour some more batter to cover the same. Repeat the same for other pits.
Let it
cook for 2 minutes and then turn other side gently with a skewer/fork/spoon and cook till turn golden brown n crisp.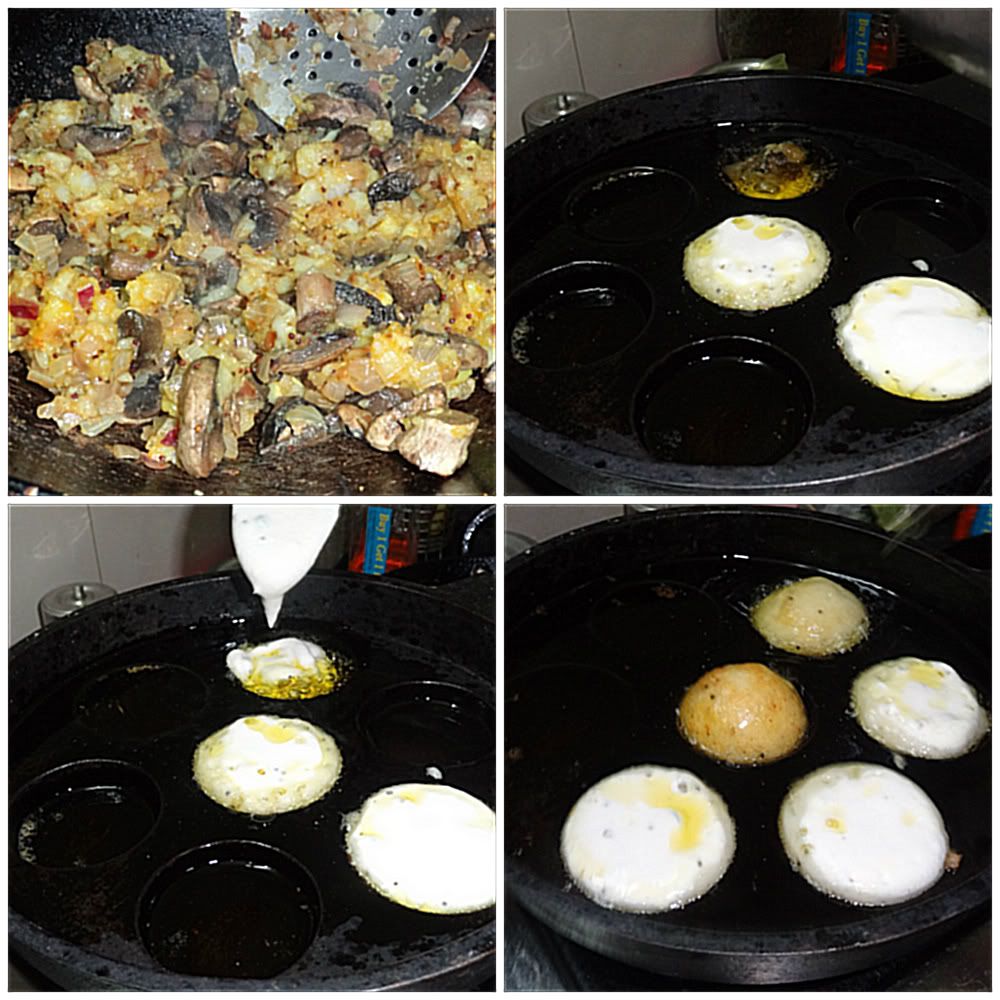 Once done, take them off flame and serve hot with any desired chutney.
Enjoy the crispy out & spongy inside treats !