The weekend is here and am looking forward to a whole lot of binging yet again. My resolve to cook & eat healthy had to meet a tragic end this week as SUVAI - 2011 is here in Trichy and the next 2 days is poised for gastronomical delights. The food carnival which kick-started from yesterday has an array of mouth watering dishes featuring many of the known & unknown hotels/restaurants/eateries. This can only mean one thing for all the foodies here - tuck in to the yummy goodies and enjoy the culinary festive saga ! Besides the snacking outlets, there are stalls for tattoos & mehendis and many cultural programs are also afoot to keep the masses entertained.
As for me, I have already made a round yesterday to see the goodies on display and tasted quite a few delightful dishes. Can't wait to explore them all this weekend !!!
Mango & Pears is a happy medley when seasoned & tempered right. The bites have become a regular feature in my hearth.
Enjoy this delightful pick-me-ups as pickle/relish or simple tuck in to them to appease those hunger pangs hitting you at ungodly hours.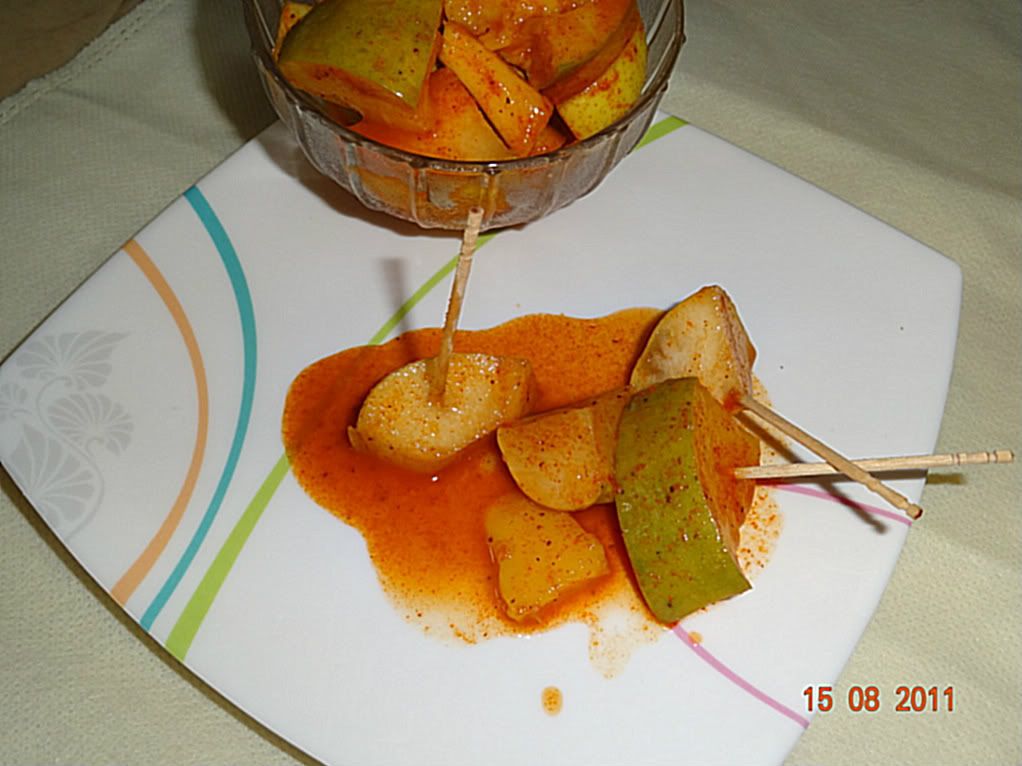 The mangoes used for the bites is the Totapuri/கிளி மூக்கு. This type of mango is oblong in shape with a prominent parrot type beak and is very delicious. This mango sees a perfect fuse of sweet & sour taste and adds to the overall flavour of the Bites. On the other hand the nutrients packed luscious pear added to the pep factor.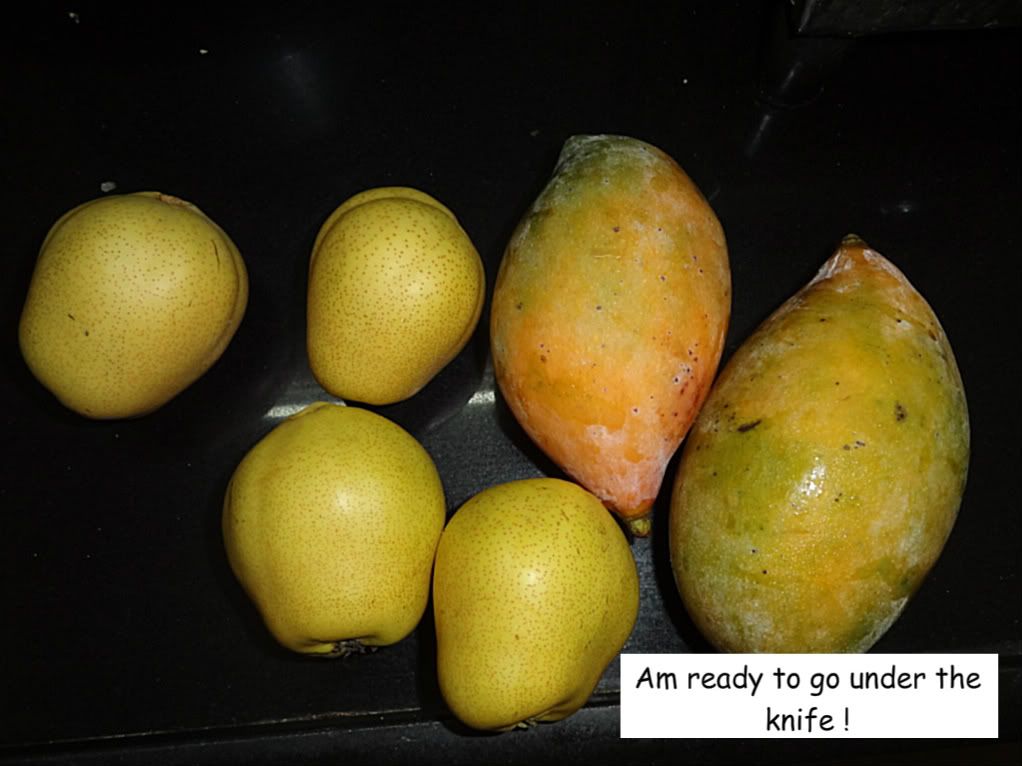 My Observations
Use Totapuri mangoes ( if available) for power packed taste & flavor.

2.

Let the mangoes be ripe but firm, else the cut pieces of mangoes will lose shape while blending.

3.

The bites tastes even better after being refrigerated. It can stay fresh for a day or two. But my bet is it will quickly disappear !
What's in it
Pear - 3 - small - washed & cubed in to bite sized pieces
Totapuri -2 - peeled & cubed in to bite sized pieces - (retaining skin is optional)
Red Chilli Powder - to taste
Salt - to taste
Oil - 1 tsp
Mustard & urad Dal - 1 tbsp - to temper
How :-
In a bowl mix the pear & mango pieces and season them with salt & red chilli powder. Let the flavours blend well. Now in a small pan, add oil & let the mustard & urad dal crackle. Add this tempering to the spicy fruit mix.Enjoy it as a side -dish to rotis or rice or savour them as such.


Linking it to Archana's FFNFF # 4 ; the event is the brainchild of Priya @ Now Serving