Suvai 2011 was a raging success and the range of dishes featured in the event was amazing. I really felt that a very voracious appetite aka Kumbhakarna would have done justice to all the stalls that were featured. Nevertheless, the food carnival saw me tucking in some lip-smacking dishes. A few of them truly caught my eye and I am sure to bring them to the hearth too !
I often make a variety of pachadis with different fruits & veggies and this one with pine-apple remain my favourite. Also, it is one of the common fares of the Onam Sadya. Pineapple, the lovely tropical fruit is full of Vitamin C & is a good source of fibre & potassium. Also it is very tummy- friendly ! I guess it makes more sense to snack this spiky fruit as much as possible !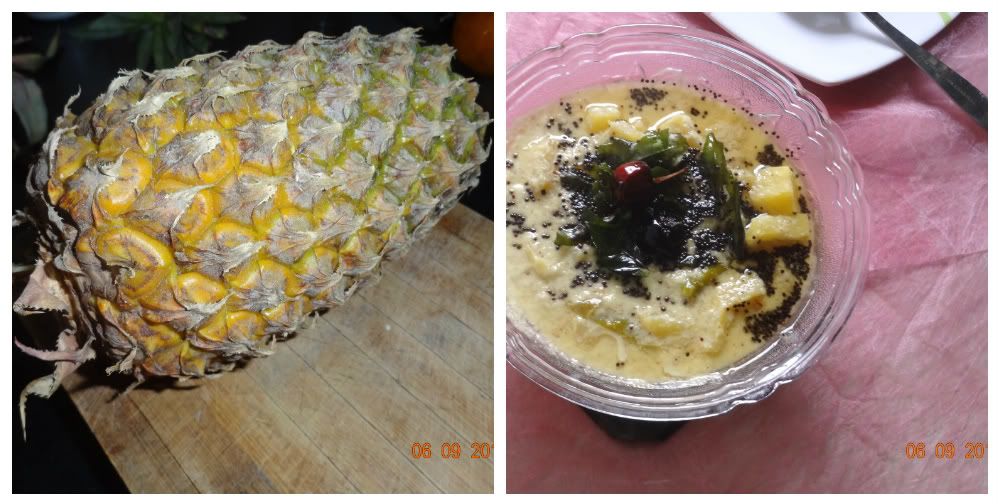 Pachadi is a
traditional south Indian Side- Dish and refers to food that has been pounded. It is made differently

among South Indian regions. While in kerala & Tamilnadu, pachadi is a side-dish curry similar to the north Indian raita, in Andhra Pradesh, pachadi is a fresh pickle and has very low shelf life, a maximum of two or three days. It is made of fresh vegetables and is served as an accompaniment for rice, snacks like idli, dosa, and pesarattu. Many kinds of vegetables are included. Sometimes the peel of the vegetable is also used, such as the peel of Ridged Gourd. F

inely chopped and boiled vegetables mix with ground coconut & red or green and tempered in oil with mustard and curry leaves. Curd/yogurt based pachadi also can be made of any vegetable or fruits. Pachadi is commonly eaten with rice and a lentil curry (Adapted from:WIKI).
With a delicious medley of flavours pineapple pachadi tingles your palate.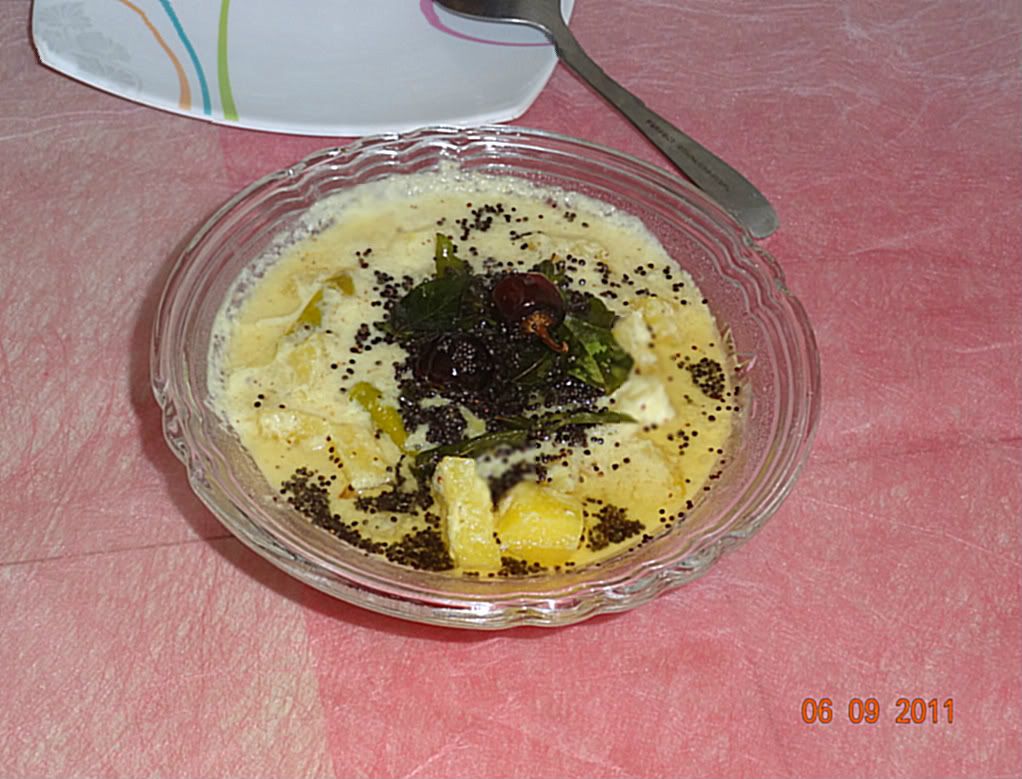 What's in it :-
Pineapple -1/2
Curd - 1/2 cup - beaten
Green Chillis- 3 - slit vertically- to taste
Turmeric Powder- a pinch or two
Coconut - 1/2 cup grated
Cumin Seeds - 1/2 tsp
Mustard Seeds - 1/2 tsp
Salt- to taste
For tempering :-
Oil - 1 tbsp
Mustard Seeds - 1 tsp
Red Chilli - 1 or 2
Curry Leaves - a few
Useful Pointers
| | |
| --- | --- |
| | While grinding the coconut-cumin-mustard mix, use the water in which pineapple is stewing for the blend, it adds to the taste |
| 2. | Temper the mix with coconut oil for the power packed flavour |
| 3. | Adjust the consistency of pachadi by adjusting the quantity of curd/yogurt or the water used while grinding coconut |
How :-
Peel & cut the pineapples in to small cubes. Boil it in a cup of water with green chillis & turmeric powder for a few minutes till it's soft & tender. Grind the coconut, cumin seeds & mustard seeds to a fine paste with water as required. Add this to the pineapples and cook well. Take off flame & once it cools a little, add the curd to the pineapple along with salt & mix well.In a small pan, heat the oil & let the mustard seeds crackle. Add the red chillis & curry leaves & let it sizzle for a few seconds. Pour this over the pineapple mix and serve.