Christmas festivities all around and it seems as if the world has woken to a whole lot of merriment & fun. It is heartening to see x'mas trees in all public places glistening with decorations and lights, candy-canes & tinsel. While we gear up to become Santa to bestow the much wanted gifts to our loved ones, it is imperative that the spirit of Santa is carried forward always. Bringing a smile on people's face,sha
ring & caring is a
continuous and a selfless affair that some times may be thankless too. What is imperative is a heart full of goodwill & cheer, spreading sunshine all through the year! (Yay it rhymed :D)
Today's post is a relish that has tomatoes as the star ingredient. I am reminded of
Laurie Colwin's quote -
'
A world without tomatoes is like a string quartet without violins' . How true ! Till date, one of my favourite any-time eat are the juicy tomatoes that's a guilt-free indulgence. Of course th
ere are endless possibility of using tomatoes and every kitchen would stand testimony to the fact that it is one of the most common and versatile ingredient to grace the hearth. The power-packed fruit that masquerades as a veggie is a storehouse of vitamins,nutrients and most importantly lycopene the cancer repellent !
Do you know that tomato belongs to the same botanical family as that of eggplants, peppers,potatoes and the toxic belladonna ? Yup, precisely the same reason why they were considered to be poisonous long time back.
The humble fruit is also very skin-friendly and research shows that increasing its intake would prevent ageing of the skin and improves its texture & structure !

Whoa, more reasons to make it integral to our diet !
There is already one version of the

Tomato Relish

in my blog and this version is sans onion and garlic and its health quotient is upped by the sesame seeds & split black lentil powder. The nuttiness of the sesame and the wholesome goodness of the lentils packs a flavourful punch to the relish !
This relish has become a staple nowadays and it's fingerlicking good ! You have to take my word for it or why not try it out???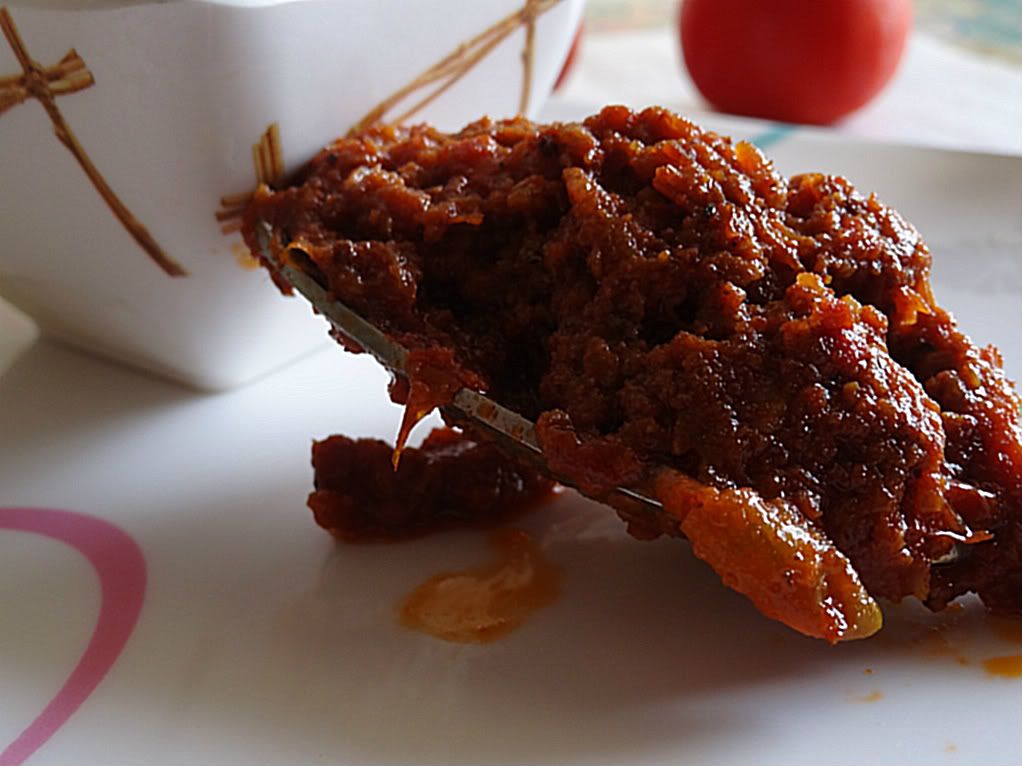 What goes:- ( I made a big batch ; feel free to reduce the quantity by half)
Tomatoes - 2 1/2 kg

Green Chillis - 12 to 15 - to taste

Sesame Seeds - 100 to 125 grams

Split Black lentils - a fistful

Sesame Oil - 100 - 150 ml

Red Chilli Powder - 6 to 7 tbsp - to taste

Salt - to taste

Sugar - 2 - 3 tbsp

Asafoetida - 1 tbsp
How:-
Cut the tomatoes in to small chunks and the green chillis in to half. Adding little water pressure cook them for 2 whistles. (Alternatively in a thick bottomed pan, you can allow the mix to come to a boil and then simmer till it turns tender). Once it cools down, on a low flame let it simmer for a while till it turns mushy and most of the water
evaporates
.
In the meanwhile , dry roast the sesame seeds & black lentils until golden brown and pulse them to a fine powder. Set it aside. Once the tomato pulp thickens considerably add half the oil, salt, sugar, red chili powder and the ground sesame-lentil powder. Let it simmer and stir constantly till it reaches the required consistency and starts leaving the sides. Add the remaining oil, asafoetida and cook it for a few minutes till the oil starts to
separate
from the mix. Switch off flame, cool it and it is ready for use.
Serve with rice, rotis or use it as a sandwich-spread ! Store in a dry container and refrigerate for future use.