It's always a pleasure when hubby dearest dons the apron, be it for making a cuppa or dishing out snacks or planning a breakfast/dinner. And when the kitchen is stormed by him on a sunday morning the joy is doubled. Last weekend was one such leisurely affair when hubby made the hearth his own and dished out the savory Upma. It was evident that the dish was a hit when m
y daughter who otherwise is not a huge fan of this hearty, comforting meal wiped her plate clean and proclaimed it to be the best upma ever!



Upma as per tamil origin is from 2 words உப்பு + மாவு = salt + flour

; so basically it is flour mixture seasoned and garnished to suit one's palate. The star ingredient is anything from semolina/flattened rice/quinoa/couscous/sago/varied sized grains of rice/whole or refined wheat. And of course thanks to Floyd Cardoz ,the dish attained dizzying heights and is elevated to much adulation.

Semolina (

also called as Rava in India

)

is the coarse, purified

wheat middlings

of

durum

wheat

or other varieties of wheat or rice or corn is used in making

pasta

, and also used for

breakfast cereals

and

puddings (Source :Wiki)

. When this is cooked with vegetables, herbs and tempered /garnished right, the dish indeed signifies a wholesome meal.
What's in it :-
Semolina - 150 gms ( Roasted to avoid lumpy formation)
Onion - 3 medium sized - finely chopped
Green Chillis - 2-3 - to taste- finely chopped
Fresh Green peas - a fistful
Carrot - 1 medium sized - grated
Fresh Grated Coconut - 1 cup
Cashewnuts - a few
Ginger - a small piece - scrapped & grated
Curry Leaves - a few - chopped
Coriander leaves - a few sprigs - finely chopped
Mint leaves -a few - finely chopped
Sesame Oil/Vanaspati (Shortening) - 3 to 4 tbsp
Ghee/Clarified Butter - 3 to 4 tbsp
Lemon Juice - 1 tsp
Salt - to taste
Sugar - 1 tsp
Water - 3 times the quantity of semolina
Note :-
Hubby Dearest was little liberal in terms of quantity of oil/ghee. Feel free to reduce the same as desired.
How :-
In a thick bottomed pan/kadai, add half the oil/vanaspati and as it warms up saute the coconut, coriander leaves & mint leaves for a few minutes. Set it aside. In the same kadai add the remaining oil/vanaspati . On a low flame tip in the cashews ,chopped onions,curry leaves,ginger and let it saute till the onion turns a golden pink. Now add the peas and cook for a few minutes after which add the grated carrot and saute for a few more minutes.
Add water and while it comes to a rousing boil, add the coconut mix fried earlier. Mix salt, sugar & lemon juice. Once the water boils tip in the roasted semolina stirring simultaneously.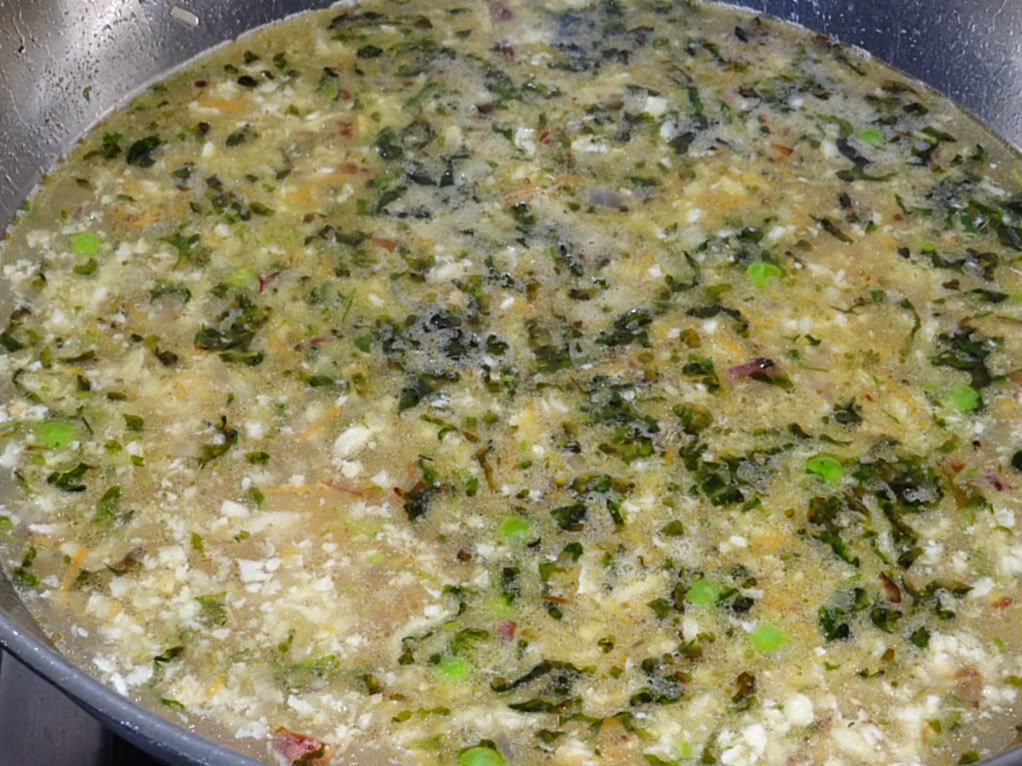 Let it cook with the lid closed for a few minutes. Add ghee and mix it - voila it's ready to be devoured. Serve it with chutney,relish,tomato-sauce,sambhar or any other choice accompaniment.
enjoy !