Guess who is happy as well as miffed (in a pleasant sense) with my blogging - it's hubby dearest
;
while he gets all thrilled with what I dish out, the sometimes inedible food :-$
not withstanding ; the thing that puts him off is the meat around the hips :D that creeps up every now & then. So, for this blog-hop, I made sure that the dish I picks up is something I never tried before , is filling as well as has a healthy tone to it.
I settled on these Lentil sweet balls that tasted nice.
I am paired with Nisha who has a hearty space @

Nisha's Kitchen

.
Having already heard about these protein-packed ladoos that is a traditional sweet of Andhra (South Indian State) , I was delighted when the
recipe

in her blog showed only 5 ingredients and promised
a breezy preparation.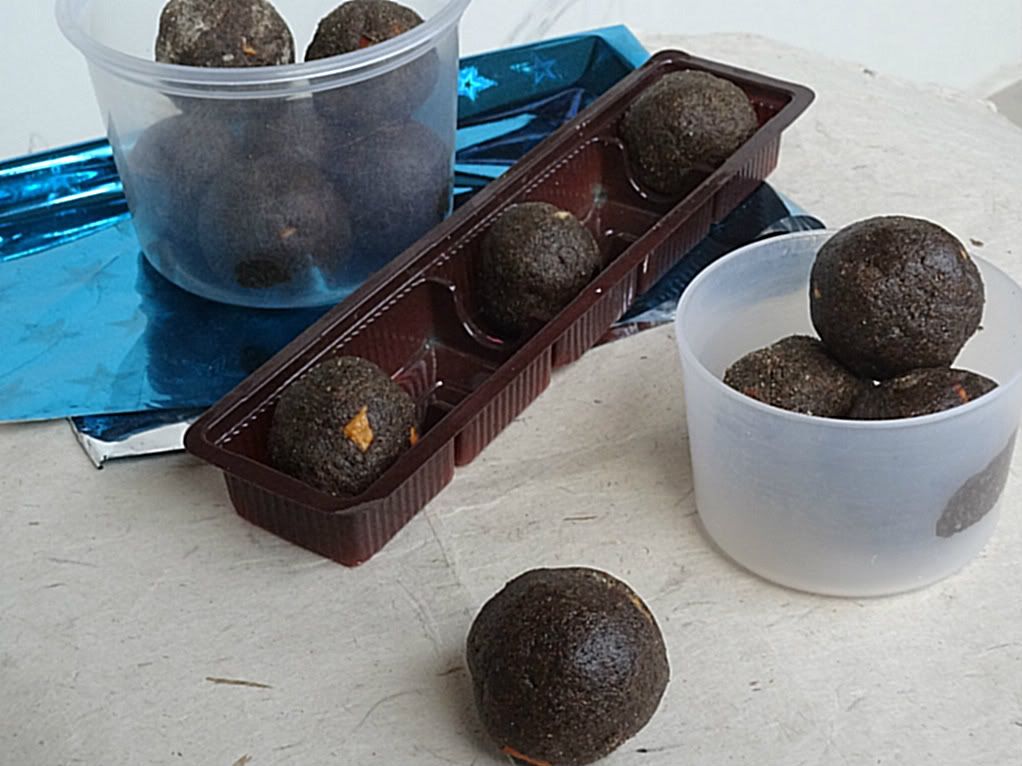 A few changes to the recipe was essential -

one

, I used urad with skin on (a packet of it was lying unattended for quite some time) and

second

instead of using clarified butter/ghee for binding the mix, I used milk as a healthier substitute and

finally

, I added little more sugar than suggested in the recipe (succumbing to my sweet tooth) and also because of the stonger flavour of the lentils
While the lentils with the skin on,

not only has a stronger flavor compared to the skinned ones, the skin also is power-packed with a whole lot of nutrients & fibre.
Useful Pointers
| | |
| --- | --- |
| | You can use Skinned Urad dal for a milder flavour in the ladoos |
| 2. | To make it more healthy, you can substitute brown sugar/palm sugar in place of regular sugar |
| 3. | For more flavorsome ladoos, use clarified butter for binding the mix in place of milk |
| 4. | You can also add chopped dates to the nut mix to bring a healthier twist to the ladoos |
What's in it :- (Medium Sized Balls - 15)
Split Urad Dal (Black Gramwith skin on) - 2 cups

Powdered Sugar - 1 to 1 1/4 cup - to taste

Any nut of choice - a few - chopped (I used a blend of walnuts,cashews & pistachios)

Caradamom Powder - a few generous pinches

Clarified Butter/Ghee - 1 to 2 tbsp

Warm Milk - as required
Here's How :-
Dry roast the lentils until golden and grind it well.Pass it through a sieve to get a finer consistency.
Add sugar and cardamom powder.
Fry chopped nutsashews in ghee and add to the mixture.P
our warm milk as required into the mixture slowly enough to bind the mix.
Take a small quantity of the mix and gently shape them in to ball. Repeat for the rest. Enjoy.
It's off to radhika's Blog Hop Wednesdays-Week 11 as well as Susan's MLLA # 42 guest hosted by

Kiran