A good friend of my hubby who was tragically taken away by the almighty,left us in deep shock & immensely saddened - R.I.P

A.

It also made me realise how short life is ; it certainly must not be squandered away in petty squabbles and trivial pursuits. Here's one of my favourite quotes that I truly try and follow ----
"You've gotta dance like there's nobody watching,
Love like you'll never be hurt,
Sing like there's nobody listening,
And live like it's heaven on earth."
―
William W. Purkey
Moving on to today's post , a dal made 2 weeks back gets a repeated entry in to my hearth. WHY - it's a m
edley of lentils in a spicy avatar.
Served with rice and rotis (Indian Flat Bread) the dish was rocking !
Lentils and pulses are to a vegetarian
what meat is to a non-vegetarian. They are protein-packed and filling and can be cooked in many different ways.
Lentil Mix
The variety of spices in the pantry bring a whole lot of pep and zing to the final dishes. Take for instance this spicy dal – a medley of lentils in a yogurt based gravy with an array of spices does wonder to the taste-buds. The recipe from a very old & tattered magazine got a lot of appreciation from my folks.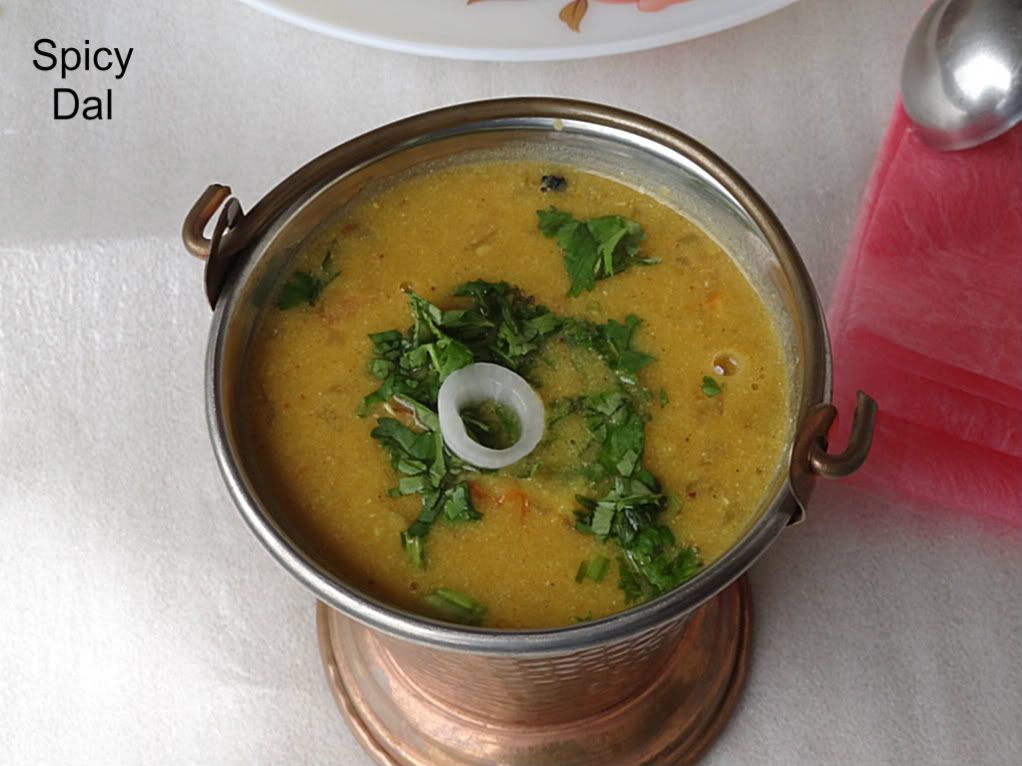 Ingredients
Toor Dal (Pidgeon Peas) – 50 grams (approx)

Bengal Gram (Split Yellow Chickpeas) – 50 grams (approx)

Moong Dal (Split Yellow Mung Beans) – 50 grams (approx)

Masoor Dal (Pink lentils) – 50 grams (approx)

Onion – 2 medium

Tomatoes – 2 medium

Garlic – 4 pods

Ginger – a small piece

Whole Spices– 1/2 tsp (each of black pepper corn, cloves,cinnamon stick, cardamom,cumin seeds )

Turmeric Powder – 1/2 tsp

Red Chilli Powder – 1/2 tsp

Coriander Powder – 1 tsp

Salt – to taste

Curd/Yogurt – 100 grams (approx)

Garam Masala Powder – 1 tbsp (store bought)

Clarified Butter / oil – 1 tbsp

Water – as required

Coriander Leaves – a few sprigs (finely chopped) – for garnish
Here's How :-
Wash the lentils well and cook them with required water. Either pressure cook it for 3 whistles and then let it simmer for another 10 to 15 minutes or cook it in a large pan until tender.
In a thick bottomed pan, add clarified butter/oil and as it warms up add the whole spices. Let it sizzle for a a minute or two and then tip in the chopped onions ginger & garlic. Let it cook till onions turn golden.
Add the chopped tomatoes as well as the spices (except garam masala) and season it with salt. Simmer till the tomatoes becomes soft.
In the meanwhile , whisk the curd/yogurt along with the garam masala powder and add it to the pan. Cook for a few minutes.
Finally add the cooked lentils in to the pan,combine well and let it simmer for 10 to 12 minutes.At any point add little water if the mix becomes too thick.
Garnish with coriander leaves and serve hot.
It's off to Susan's
MLLA # 42
guest hosted by
Kiran