My son has started school and am one proud mom; 2 1/2 years has just vanished in a jiffy and my lil prince is ready for the long haul and all the adventures/struggles/accomplishments that come with it. I expected him to be a little teary-eyed and sniffy on the first day but was delighted when he cheerfully waved me off and sent sprightly air kisses ! All the stress & strains that accompanied his birth has disappeared in to thin air and it all seems worth it ! Time & Tide waits for none indeed !! Yup that also means I have a good 2-3 hours with me and for me --- guess who's sporting a biggggg :D
This week of

Blog Hop Wednesday

sees me paired with Vatsala @

Show and Tell

. I loved the versatile display of recipes and the well explained posts in her blog. She has an artistic streak in her, and the Crafts Corner page in her blog goes to showcase that. I had a few recipes in mind before deciding on this.
The choco rolls is a very easy breezy preparation and tastes yum. The kids loved it and am glad I tried this

recipe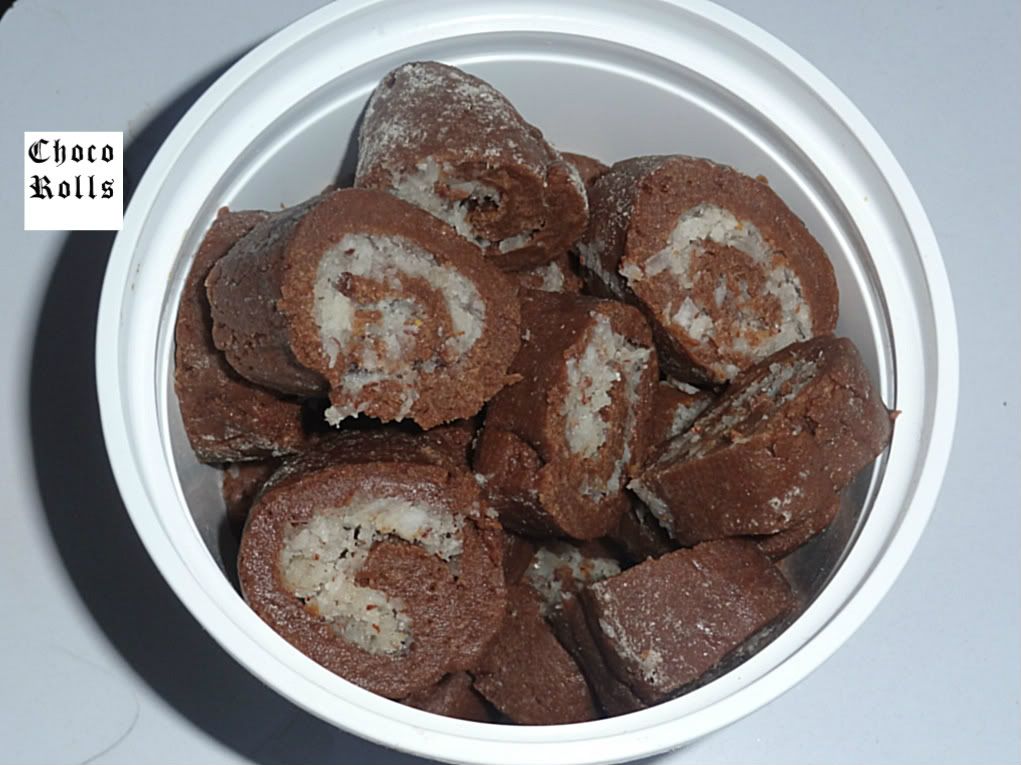 What's in it :-
For the Outer layer:-
Marie Biscuits (or any Tea Biscuits) - 1/2 packet

Cocoa Powder - 1 1/2 tsp

Sugar - 1 tbsp

Milk - as required to blend the dough
For the Inner layer:-
Dessicated Coconut (Dry Coconut) - 1/2 cup - as required

Cardamom Powder- a generous pinch

Sugar -1/2 cup - to taste

Butter - 1 to 2 tbsp
How :-
Powder the biscuits in a blender and add cocoa powder and sugar to it. Mix well and add milk little at a time to knead in to a fine dough. Set aside.
Combine all the ingredients for the inner layer to a sticky mix and set aside.
Now pinch a medium sized ball from the biscuit-cocoa dough and roll across thickly like you do for a flat bread/chapati. Spread the dry coconut mix all over evenly. Roll it to form a cylinderical shape and repeat the procedure for the rest of the dough. Wrap the cylinders separately in a cling wrap and refrigerate them for an hour.
Cut them it to half-inch wide pieces and serve chilled. Enjoy
Also Linking them to Kalyani's GFF -100