A slew of festivals round the corner and happy celebrations have begun...... Streets are lighted & decked up , shops are going frantic to put their best wares up for grabs and the mood in general is joyful ! The festive spirits had begun around Varalakshmi Viradham & Avani Avittam and then there was Independence Day followed by krishna jeyanthi which is celebrated today and Ganesh chaturthi which is just 10 days away. Navrathri & Vijayadasami adds to the splendour and it comes to a spectacular cacophonous end with Diwali. These are the times when the waistline be damned -----
Krishna Jayanthi

celebrating the birth of Lord Krishna
has always been close to my heart. We celebrated it with all the traditional fervour & zest.
I have fond memories of celebrating Lord Krishna's birthday with my parents..... I remember how me & my sister used to fight in helping mom dole out these marbles/cheedais. Making these marbles as well as other fried savoury snacks was a huge enjoyment in itself and what followed was the restless wait till these prasadams (offerings) were offered to krishna; As the clock turned 5:30 PM- 6:00 PM, the puja is done and we would hungrily gobble up them all---- such were the sweet times ! But what was even more memorable & special for me was my mom drawing the cute little legs signifying Krishna's entry to our heart & hearth - from porch to the puja room to the kitchen these tiny legs of Baby krishna would be everywhere ! I still follow that tradition and when I see my daughter getting excited about it , I get nostalgic !
The most special offerings to Krishna are these cheedais other than Poha (Beaten Rice) and of course Butter. The cheedai is both sweet & savoury; made with rice flour they are yummy delights that can be snacked any time !
| | |
| --- | --- |
| | The traditional way of making rice flour is to wash the rice thoroughly, drain well & allow it to dry on a cloth. Once thoroughly dried, take it to flour mill to powder it finely. Or powder it well in a food processor; if that is not possible due to time constraints, store bought rice flour is just fine. Sieve it once to remove any coarse particles-- this helps in avoiding the marbles burst when dropped in oil |
| | |
| --- | --- |
| | For the Urad Dal Powder, gently roast the Urad Dal (lentils) in a skillet till golden brown, and once it cools grind it to a fine powder and sieve it to remove any coarse particles |
Vella Cheedai (Sweet Rice Flour Marbles)
Vellam is Jaggery in Tamil , the rice flour is sweetened with Jaggery and rolled in to marbles which are further fried in hot oil till golden brown
What's in it :-
Rice Flour - 1 cup

Jaggery - 1 cup

Urad Dal powder - 1 tsp

Sesame Seeds - 1 1/2 tsp

Ghee - 1 to 2 tbsp

Coconut Flakes - a few pieces (very finely chopped)

Cardamom - 2 to 3 pods - powdered finely
How :-
Roast the rice flour in a pan till it becomes golden brown. Spread it and allow it to cool. Mix urad dal powder, sesame seeds, coconut pieces, cardamom powder with the rice flour and set aside.

Prepare the jaggery syrup as follows

- If the jaggery is in chunks, break them in to small pieces. Bring a cup of water to boil and add the broken pieces of jaggery and let it simmer till the jaggery is completely dissolved.Take it off flame, you can filter it to remove any impurities.No need for a thick string like consistency of the jaggery syrup.
Take the flour mixture and add ghee and this jaggery syrup little by little as required and make it to a pliable dough. the dough need not be very soft, else the marbles will not hold shape. Now grease your palm little and make marbled size balls . Rest these balls on paper/cloth if to further dry up the balls and evaporate any excess moisture.
In the meanwhile heat oil in a pan, put the marbles 2-3 at a time and fry on both sides till golden brown.
Uppu Cheedai (Savoury Rice Flour Marbles)
Rice Flour - 1 cup
Urad Dal Powder - 1 tbsp


Coconut Scrapings - 1/2 cup

Sesame Seeds - 1 tbsp

Hot Oil - 2 tbsp

Asafoetida - a pinch

Salt - to taste

Oil - to fry

Hot Water - as required
How :-


Roast the rice flour in a pan till it becomes golden brown. Spread it and allow it to cool. Mix in it urad dal powder, sesame seeds,coconut scrapings, hot oil and add little water to make a pliable dough.Take the dough and make marble sized small balls. Leave for one hour for drying out . Fry them in oil till brown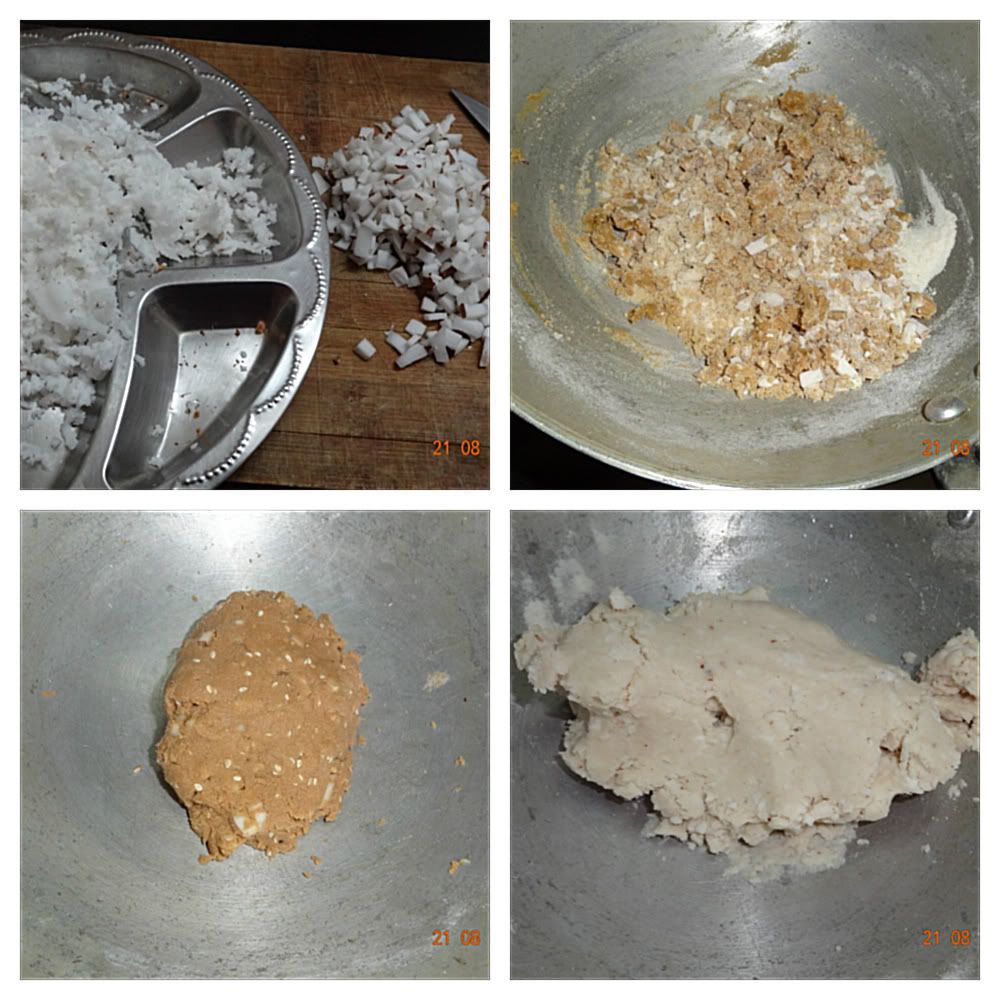 Rolled out as marbles------
| | |
| --- | --- |
| | For both the vella cheedai & uppu cheedai, rest the marbles for atleast 15 to 30 minutes after you roll/shape them.It takes away the air trapped & excess moisture if any... and prevents bursting of these marbles when dropped in to hot oil |
| 2. | For the Uppu cheedai, add a tablespoon or two of the hot oil meant for frying to the flour while kneading the dough. It helps the dough bind better and also prevents bursting of marbles while frying in hot oil |
| 3. | For the Vella cheedai, the jaggery syrup need not be of thick consistency. The jaggery syrup replaces water to bind the flour to a dough |
| 4. | For vella cheedai ,pour the jaggery syrup in to the flour mix as required and knead it in to a tight dough, else the marbles will not retain shape |
Wishing all readers a Happy Janmashatami !