Cooking is one happy song when the ingredients in hand are your darlings - Mint & Cilantro the two versatile herbs are easily my favourite greens. They add the necessary spunk to any dish and rightly so ! The aromatic & very refreshing mint is a superstar in my hearth as it finds its way in to all n sundry like salad, soups,gravies,beverages, etc . Its invigorating smell just lifts up the spirits and spells fun while the sweet & pungent coriander /cilantro leaves adds flavour to any dish. Also the health & medicinal uses of mint & cilantro are widely documented. Do you need any more reason to join the fan club of these herbs ??
It is no suprise that this mint & cilantro pulav is my favourite and I dish out different versions of this regularly - my version of this pulav for today's lunch was happily gulped down by kids.
The herbs did not overpower the dish but its fragrance wafted all around n taste lingered.
For added effect, I shallow fried succulent cubes of cottage cheese & added to the rice. It was a winner all the way !
What's in it :-
For the masala paste :-
Mint & Coriander leaves - a bunch - washed

Green chillis- 3 to 4 - to taste

garlic Pods - 2 (large)

Ginger - a small piece

Coconut - few pieces

Lemon - one or two squeeze (helps retain its colour) , optional
Other ingredients :-
Raw Rice - 1 cup
Onion - 1 large - diced
Green Peas - a fistful
Baby Corn - 1 - diced
Cottage Cheese - 150 gms - cubed in to small pieces
To temper :-
Olive Oil - 1 tbsp
Whole Spices - cinnamon, bay leaf, aniseed, mace,cardamom- to taste
Cashew nuts - a few
How :-
Add little water and grind all the ingredients for the masala in to a paste & set aside.
Wash the rice and keep it aside. In the meanwhile shallow fry the pieces of cottage cheese to be added later.
In a wok , add olive oil and as it warms up tip in the whole spices and let it spread across its buzz. Add the cashewnuts & fry it golden brown. Now add the diced onions and saute for a few minutes. Add the green peas & baby corn and stir fry. Add the ground paste and mix well. Saute this for a few minutes adding little water if the mix gets too dry.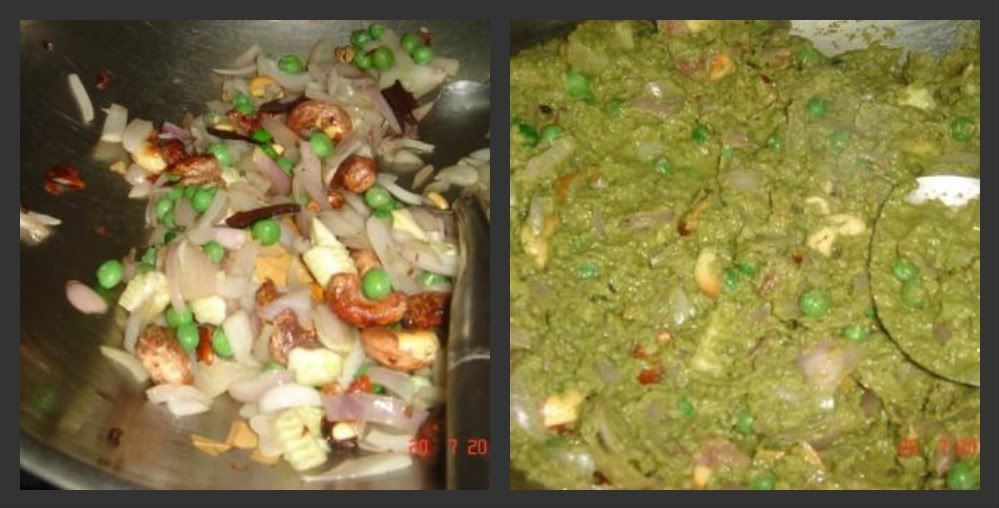 Season it with salt and add the rice with enough water and let it cook. In case of using a pressure cooker wait for 2 beeps from it; otherwise close the pan and let it simmer on low-medium flame till done. Finally add the paneer pieces and mix well.
Serve hot with choice accompaniments.
Enjoy !