Lord Ganesha the most revered, loving & benevolent Deity is widely worshipped across the Hindu Religion. Known to be the destroyer of all evils & obstacles he is invoked first before beginning any work !
Sankata Hara Chaturthi observed on the fourth day after the full moon as per the Hindu calendar every month is dedicated to Lord Ganesha. Literally meaning problem removing, the day is spent by fasting and breaking it later in the evening after puja and offering the neivedhyam of Sweet Modaks /Vella Kozhukattai. These treats are also the main draw on Ganesh Chaturthi celebrated as Ganesha's Birthday that falls in the month of August -September.
The dumplings made of rice flour is filled with poornam which is a delicious blend of jaggery & coconut with cardamom spreading its divine aroma. These dumpling are then steamed for a few minutes before offering to the Lord.
What goes:-
For the Outer covering --
Rice Flour - 1 cup
Water - 1 to 1 1/4 cup
Ghee - 1 tsp
For the Poornam/Filling :-
Prepare the filling first and set aside. For this powder the jaggery well with a rolling pin. Add the grated coconut along with the crushed cardamom to make a sweet mix.
Alternatively, you can melt the jaggery with a tablespoon or two of water over low flame and then add the grated coconut and blend well. I prefer the first method over the alternative because it saves me time over waiting for the mix to thicken.
In case over flame, the mix becomes watery, no need to fret add a spoon or two of rice flour. The mix thickens.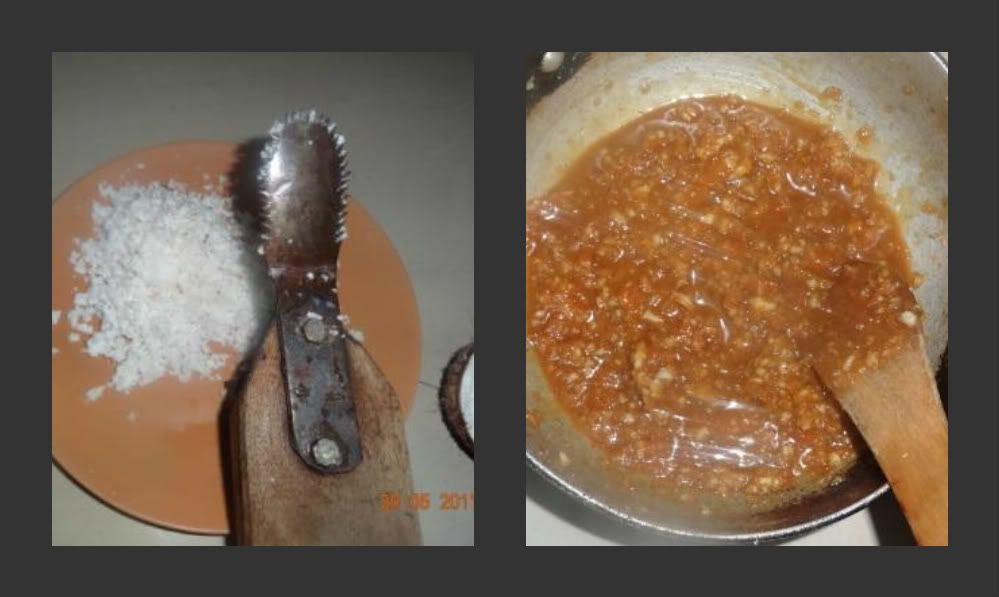 For the outer cover, add the required water & ghee in a pan and bring it to a boil. Take off flame and add the rice flour slowly and mix well to get a smooth dough. Keep some hot water & flour near by to adjust the dough. If it becomes too sticky add a spoon or two of the flour, alternatively if the mix is dry add the water for a pliable dough.
Assembling the modaks -- Take a lemon sized ball and flatten with greased fingers and make a depression for placing the filling.Put a spoonful of the poornam/filling.
Draw the ends together and shape it like a cone. Finish the rest of the dough in similar manner.
Steam for 10-12 minutes. After offering them to the Lord, Enjoy !!!!
A peep inside !
This goes to Akila's Celebrate Sweets - Stuffed Sweets