One of my daughter's favourite way of having eggs is this delicious sunny side up on a layer of stewed/cooked tomatoes.
Not only is this very easy to make but this is a perfect accompaniment with bread. Her name to this dish is Red & Sunny !
What's in it:-
Eggs- 3

Tomatoes - 3 to 4

Tomato Ketchup/Sauce - 1 to 2 tsp - to taste - optional

Onion - 1 -large - chopped finely

Garlic - 3 to4 pods- finely chopped

Green Chillis - 2 - finely chopped - to taste

Basil Leaves- a few - chopped - optional

Cumin Powder - 1 tsp

Salt - to taste

Sugar - 1/2 tsp - optional

Lemon juice - 1 tsp

Coriander leaves - a few sprigs - finely chopped

Pepper - to taste

Olive Oil - little
How:-
Separate the egg whites & yolks. Beat the egg whites till stiff. In the meanwhile blanch, peel & roughly pulp the tomatoes. In a round non stick pan/skillet, add olive oil and stir-fry the onions for a few seconds. Now add the garlic, green chillis & cumin powder and saute. Add the roughly pulped tomatoes & tomato ketchup (optional) and let it stew till it thickens.Now add the lemon juice, salt & sugar(optional). Stir well and flatten it before pouring the beaten egg whites over. At this point u can add basil leaves if you want. Now drop the egg yolks gently.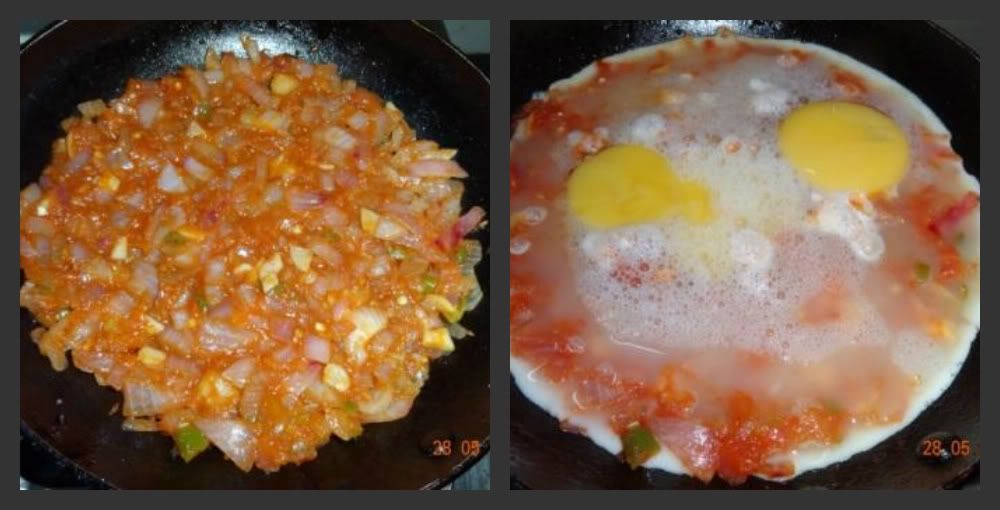 Cover the skillet and let it cook till the eggs are set.
Season with pepper/oregano and garnish with coriander leaves. Cut in to slices & serve hot with crusty/toasted bread or enjoy the slices just like that with a bowl of soup !
Enjoy !